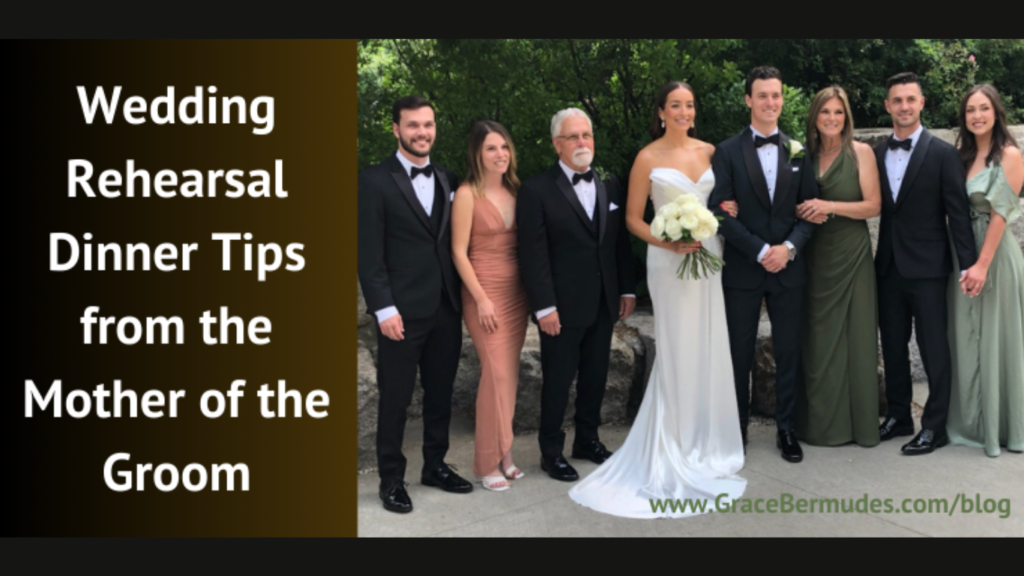 Wedding Rehearsal Dinner Tips from the Mother of the Groom
I just had to share that I had my first experience being a "mother of the groom". So of course, I jumped at the opportunity to plan the rehearsal dinner and a morning after picnic breakfast. So, I started planning . . .
Full disclosure here: I was extremely lucky as both the bride and groom were extremely organized and the bride easily conveyed her vision picking out the rehearsal dinner venue and the menu, so I was in charge of the easy part — decorating the tables. And putting on the "Breakfast in the Park".
The hard part? Me in California, wedding in New York.
Here are some tips from me "the mother of the groom".
PS These tips are helpful for planning any event.
Tip #1
Do ask the Bride and Groom for suggestions in advance. For venues booking a year in advance is not uncommon. For florists 3-6 months in advance. For the actual day of the wedding flowers book as soon as you can. I have done many flowers for weddings over the years and you cannot usually do more than one wedding a day and Florists like venues and photographers book up quickly.
Tip #2

Communicate regularly with the contact person of those you booked or hired, just to keep on top of any changes and it gives you piece of mind. I was speaking with the bagel company as they were delivering (on foot) to make
sure they found us in the park.
Tip #3
Having things delivered is totally worth it!
Tip #4
When the orders arrive, have your list ready to make sure everything arrives. I didn't and had to make a few calls to get a missing item off the delivery truck.
Tip #5: 
If you craft some special decorations, do pack them up and send them a couple of weeks in advance. Lugging them in your suitcase is definitely NOT the best
use of your energy.
Tip #6
Don't over decorate and over plan. Ask Bride and Groom likes and dislikes. If the bride hates purple, then no PURPLE.
Tip #7
If you order decorations online have them shipped directly to someone near the venue. This will probably be your son or daughter, a relative or a friend.
Shipping to the venue is probably not an option due to storage room.
Tip #8
You will have a finite amount of time to decorate the venue. I had only 2 hours before everyone arrived. Luckily, I did my makeup and hair in advance.
Tip #9
Having professional hair and makeup, not something I would have thought of, but I think it made a big difference in the photo quality (Make sure you know the quality and experience of who you are hiring)
Tip #10
Turkish towels are wonderful very thin colorful towels. I used them as outdoor table cloths.
Tip #11
Know the rules of the venue. The restaurant had a no glitter policy and the park did not allow tables or chairs on the grass. The plan was to spread Turkish
towels on the grass. It was a bit wet. Since the park was very empty and we were able to put the Turkish towels on the park benches for the foods and drinks. If you want to picnic on the grass, I think putting a painters' canvas down first and put the towels on top of that would have worked.
Tip #12
Paper parasols are inexpensive and can provide personal shade or shade the food.
Tip #13
If you are having an even don't forget water. I had coffee, milk, and orange juice. I don't remember ordering the milk, but I guess that is a New York
thing??? I should have had coffee, water, and orange juice.
Tip #14
Let's not be wasteful. Have a plan in advance of who's taking the leftover food and who want's the usable Décor, flowers etc. after the event. This shortens the cleanup time, especially when you have a flight to catch.
Tip #15
To this day I don't know what happened to the fancy plates for the breakfast. With every event there is always something wacky that happens. Just smile and move on, experience has taught me no one will ever notice!
Want more tips like these to help you be more organized? 3 Steps you can take today!
Watch my blog for more great info and How-Tos for things that you will actually want to do.
Join my Facebook group: Your Awesome Organized Home
Schedule a call with me!
Want to know how I can help you enjoy a Beautiful Organized home?
Whether you are moving, moving in, or just ready to just enjoy your home, having an organized home is one of the first things you must do to make your home beautiful and your life less stressful.
Getting organized is NOT hopeless. It is do-able!
I work with you in person or virtually. Together we focus in on what needs to be organized, stored, filed, donated, recycled, and tossed. Working with you step by step, in a systematic non-judgmental way, so your home and office is organized quickly, efficiently, and beautifully!
Book an appointment to chat with me and let's see what we can do together! 
I'm looking forward to speaking with you, 
Grace Bermudes
Organize-Stage-Style/Refresh-E-Design
408-202-4272
Grace@GraceBermudes.com

PS – For more information, tips and resources go to www.GraceBermudes.com!
Find me on Pinterest
Join my Facebook group Your Awesome Organized Home

Like my Facebook Biz page

Find me on Linkedin